This product must be an open-source ventilator.
The ventilator must fit the Iranian culture, where people may not usually use beds; A vast majority put the mattress and pillow on the ground to sleep.
The body must be simple and cost low to manufacture.
The ventilator has to have enough height to be compatible with all three standing, sitting, and lying down.
The ventilator has to be able to make with job production.
The ventilator must be easy to move and use.
Previous Models on the Market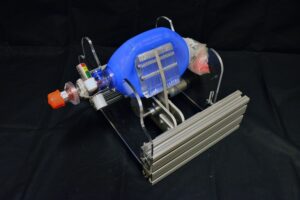 MIT open-soutce ventilator
This product was for Covid-19 and the due date was so early, so we had to make it as fast as possible.
There was no time for the molding process, and we had to make it with simple job production ways.
We were low on budget, so there should be a low-cost production method.
The product is still developing, and there was the need to adapt with software developers.
Previous Models on the Market
MPS open-soutce ventilator