There had to be considered a separate path for employees and loading trucks.
The place had to be optimized to ease out the manufacturing process.
Previous Models on the Market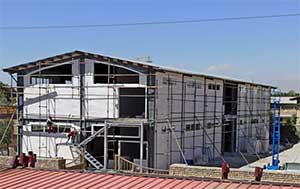 Easy access to machinery was a need. Every room had to have the shortest way to the stash so no time would be wasted.
There were both-sided stairs for personnel to move freely between the floors.
The dimensions were determined. The hard part was to architect a building with all the room dimensions already in mind.
Circulation in the most optimized way there is.
With all the wrong ways considered and removed, it is hard to get lost in this place.
The protected stash, room for sandblasting, filtered environments with workshops for lasering and CNC, … were all placed with love.
Previous Models on the Market